PRADCO新製品3
このページは新製品ではなく新色の登場です!
レッドフィンのC09とCJ9に今までにないリアルカラーが登場!
Press Release
Four Fabulous New Red Fin ColorsDon't worry. We aren't changing anything about a Red Fin's time-proven design. We're just expanding options with four outstanding new colors. Thecolors –Black Chrome AYU, Chrome Herring, Pale Perch and Bone Appetit –all suggest common forage fish for various game species. Two offer the fabulous flash of chrome. Two use the highly effective color of Bone as a base. All new colors are well suited for fresh and saltwater settings, which is a good thing, because Red Fins are proven producers of everything from speckled trout along the Florida coast to walleyes in the Midwest to stripers in reservoirs and coastal watersalike. The Red Fin is also exceptionally versatile in applications. Itisone of the easiest floater/diver minnows to wake and legendary for the fish-calling V-wake it pushesout. However, a Red Fin's hollow-head design also makes it extra erratic when jerked. Reeled steadily, it dives to about 3 feet and wobbles irresistiblyTwo Red Fin Models are getting the new colors. Bothare 5 inches long, weigh 5/8 ounce and have No. 2 trebles. The solid-bodied CO9 has three trebles. The jointed CJ9 has twotrebles.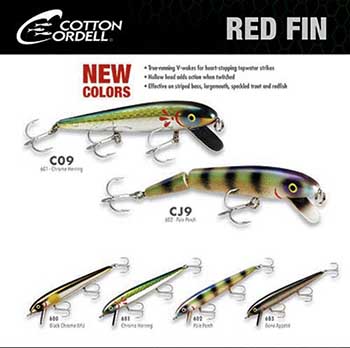 Heddon ワンノッカースプークの新色
Press Release
The Heddon One Knocker Spook's new colors expand options for anglers to match forage. Progill is a
bluegill imitator with intensely bright accents. Spasm's clear body and black striping replicates the look
of a young striper or white bass. River Shad has a bone body with pearlescent sides and a blue back which
makes it perfect for using around blueback herring. Bone Head is a spin on the traditional Bone Spook,
but with pearlescent sides and a black back to resemble a gizzard shad.