PRADCO新製品7
The Norman Speed N has all the features anglers want in a crankbait for cold water fishing.
◇Same size and weight as the Deep Little N
◇Tight wobble with an aggressive pitch and roll action
◇Butyrate body provides a dull thump sound that's different than other crankbaits
◇Gel Coat adds a layer of protection to the lure
◇Excels in submerged vegetation
◇Scored two Top 10 finishes in the 2020 Bassmaster Classic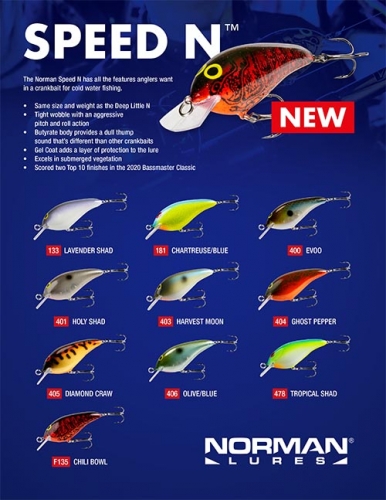 Norman Speed N Hot in Cold Water & More
激熱です! ノーマンスピードNは冷水で活躍するぜ(的な感じ‥たぶん)
Norman's newest crankbait, the Speed N, began proving its worth before it was even released by producing top 5 finishes at the 2020 Bassmaster Classic on Lake Guntersville for Stetson Blaylock and Micah Frazier.
Designed primarily for cold-water fishing, with a tight wiggle and unique "pitch and roll" action that triggers strikes and sheds vegetation as it swims through developing weed beds, the Speed N proved perfect for the pre-spawn set-up at the Classic, which was held in early March.
This crankbait isn't only for cold water, though. Its namesake ability to run well at high speeds also makes the Speed N a gem during summer and early fall, when fast presentations often work best for triggering reaction strikes.
Constructed from Butyrate, the Speed N calls fish with a dull thud that sets it apart from most other crankbaits. Its body size and shape match that of the iconic Deep Little N. Norman's signature Gel Coat finish adds longevity.
The Speed N measures 2.75 inches, weighs ½ ounce and is equipped with No. 4 trebles. It is available in 10 colors, including some Norman favorites and some that are new and exclusive to the Speed N.
ノーマンの最新のクランクベイトであるスピードNは、リリースされる前に、ステットソンブレイロックとミカフレイザーのためにレイクガンターズビルで2020バスマスタークラシックでトップ5フィニッシュを生み出すことで、その価値を証明し始めました。
Speed Nは、主に冷水釣り向けに設計されており、雑草の床を泳ぐときにストライクをトリガーして植物を落とす独特の「ピッチアンドロール」アクションを備えており、Classicでのスポーン前のセットアップに最適です。 、3月上旬に開催されました。
ただし、このクランクベイトは冷水だけではありません。高速でうまく実行できるその名の知れた能力は、反応のストライキをトリガーするために速いプレゼンテーションがしばしば最もよく機能する夏と初秋の間にSpeed Nを宝石にします。
ブチレイトから構築されたスピードNは、他のほとんどのクランクベイトとは一線を画す鈍い音で魚を呼びます。ボディのサイズと形状は、象徴的なディープリトルNのものと一致します。ノーマンの署名であるジェルコート仕上げは、寿命を延ばします。
スピードNは2.75インチで、重さは1/4オンスで、4番の高音域を備えています。ノーマンのお気に入りやSpeed N専用の新色など、10色でご用意しています。(Google翻訳そのまま)